A Global Variation is a type of change that applies to either all visitors to your Site or all visitors to a specified Campaign.
Site Variation
A Site Variation is a Variation that can be applied independently of a Campaign (i.e., applied to both assigned and non-assigned traffic). Using a Site Variation, you can integrate SiteSpect User Tracking data with your analytics, insert in-page behavior tracking, or deploy a winning Variation to all of your users. Site Variations can be useful for quickly publishing a change to your website while your web design and development team make changes to your underlying site. This allows you to benefit from the changes quickly while additional work is being performed. You could also use a Site Variation to publish content that is useful for only a short period of time. For example, you may want to publish content related to a promotion that you will offer for only a few days. A Site Variation can be an efficient way to use SiteSpect to swap the required content rather than making permanent changes to your site.
Campaign Variation
A Campaign Variation is a change you want to apply to all traffic assigned to specific Campaigns. It allows you to create a change and then attach it to a Campaign so that only visitors who are assigned to the Campaign see it. The following are a few examples that describe how you may want to use a Campaign Variation:
You want to test a new phone number, but only for visitors who are assigned to certain Campaigns.
You want to publish a change to some testable content, but you don't want to wait for a development cycle, which may take a long time. You can accomplish this using a Campaign Variation.
Creating a Global Variation
To create a Global Variation:
Click New in the upper left corner.
Select Global Variations from the menu.
The Global Variations page opens.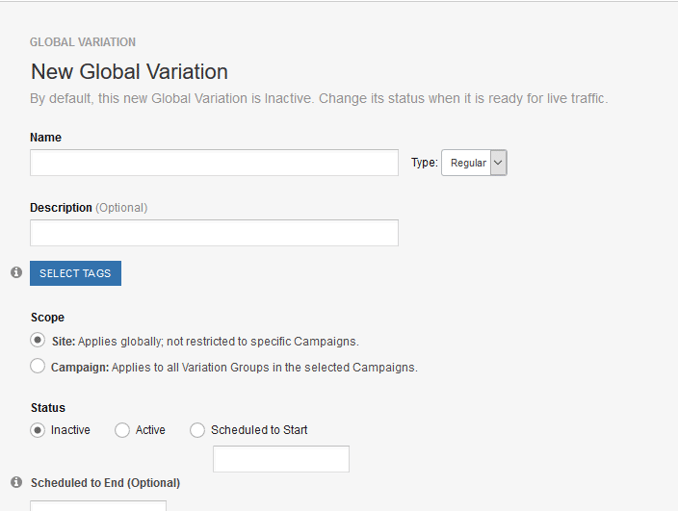 Provide a Name for the Global Variation and an optional Description.
Select the Scope: Site or Campaign Variation. Once you save this Global Variation, you cannot change the Scope.
Choose a Type: Regular or Origin.
If you want to use Tags for this Campaign Variation, click Select Tags and select one or more Tags.
Choose a Status: Inactive, Active, or Scheduled to Start. Site Variations are set to Inactive by default. Campaign Variations are set to Active by default.
Enter a Scheduled to End date (optional), if you want one.
Three buttons on the right side of the page allow you to apply templates for EventTrack, Single-Page Apps (SPA), or WATTS. When you click one of these buttons, SiteSpect automatically inserts template code in the Page Source field (Triggers section of the page) as well as the Search Text and Replacement Text fields (Search & Replace section of the page).
Add Triggers by clicking the arrow next to the Triggers label and clicking the plus sign for Triggers. For more information on Triggers, see About Triggers.
Use the Search & Replace section of the page to describe what you want to change and how you to change it.
Complete the Advanced Settings area of the page. Refer to Advanced Settings for Site and Campaign Variations for more information.
In the Campaign Associations field, select Campaigns that you want this Campaign Variation to appear with. This field is available only for Campaign Variations.
Use the Preview Settings area of the page to verify that the Global Variation is applied when the Triggers are met.