Variation Groups organize Variations in your Campaigns. You can add or remove Variation Groups as you define the website changes you plan to test.
Note:
You cannot add a Variation Group from the Variations section of the Campaign Builder while in Visual Editor mode. You can add Variation Groups while in
Find & Replace
mode or while actually
using the Visual Editor
.
Adding a Variation Group
To add a Variation Group in the Campaign Builder:
Open the Campaign you want to edit.
On the Variations tab, make sure you're in Find & Replace mode.
Click +New Variation Group below the existing Variation Group you'd like to copy.

A new Variation Group appears at the bottom of the Variations section of the page.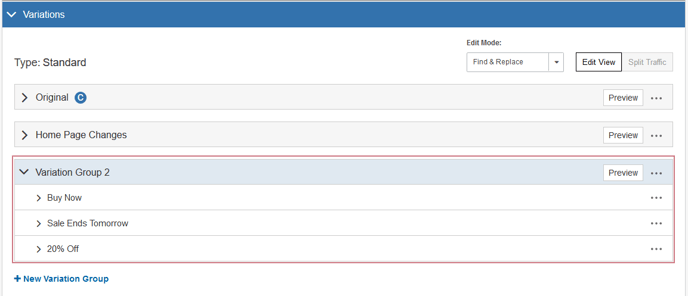 SiteSpect numbers Variation Groups incrementally with the default name Variation Group 1, Variation Group 2, and so on. You can give the Variation Group a name that works for you by clicking on its existing name and typing over it.
You may also notice that the new Variation Group contains the same Variations as the existing Variation Group in this same Campaign.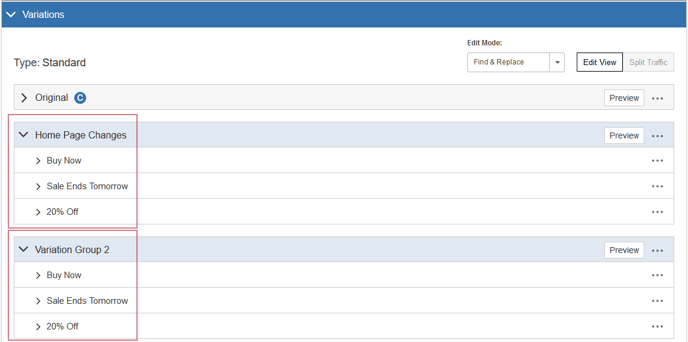 SiteSpect maintains the same list of Variations within Variation Groups that are part of the same Campaign. For more information on this topic, read Variation Groups and Their Variations.
Deleting a Variation Group
To remove a Variation Group, select Delete from the three-dot menu.
Notes About Deleting Variation Groups
Keep the following in mind when you delete a Variation Group:
If the Campaign does not have data, SiteSpect deletes the Variation Group.
If the Campaign has data, SiteSpect issues a warning about your data being deleted.
If the Campaign contains only one Variation Group, plus the Original, SiteSpect resets Variation Group 1 to its default state, but does not delete the last Variation Group.