Defining a Calculation
To open the Calculations page, select New and then Calculation.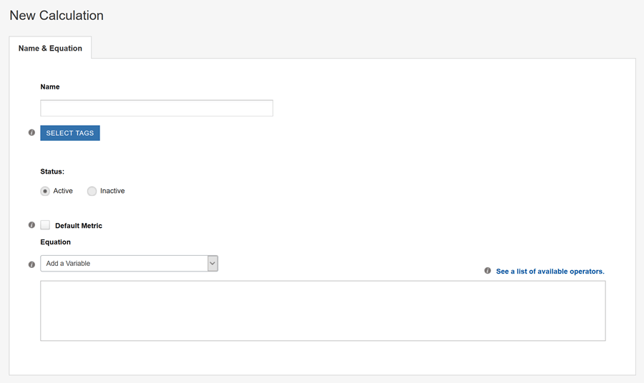 The top of the page contains basic information: Name, Tags, and Status.
Two other fields add additional functionality:
Default Metric – Selects the Metric by default when you create a new Campaign.
Equation – At the bottom of the page, the Equation field allows you to build the Calculation using a combination of SiteSpect Variables and various operators.
To build a Calculation in the Equation field:
Select an item from the Add a Variable drop-down.
Add any of the available operators. The operators are listed in the tooltip for the Equation field as well as the Calculation Operators page.
Select another item from the Add a Variable list.
Repeat these steps until you've built your Equation.
To add a variable to the Equation, select it from the Add a Variable list.
To delete a variable from the Equation, click the small x that appears at the end of the variable.