SiteSpect allows you to define a parameter that you can use in combination with your URL in the body of emails or ads. When your customers click on the link, they are assigned to a specific Variation Group of an email or ad Campaign. This allows you to perform Email or Ad testing. In fact, you can use the these URL parameters in any link where you want to specify assignment.
To create an email/ad Campaign:
Click New, A/B Campaign.
Click the three dot menu (...) on the right side of the page and select Email/Ad Testing.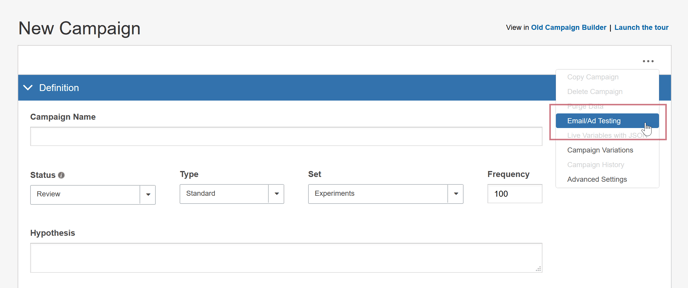 In the Email/Ad Testing dialog, click Yes to enable it and type a Name for the URL parameter. You cannot enable Email/Ad Testing unless you first save the Campaign.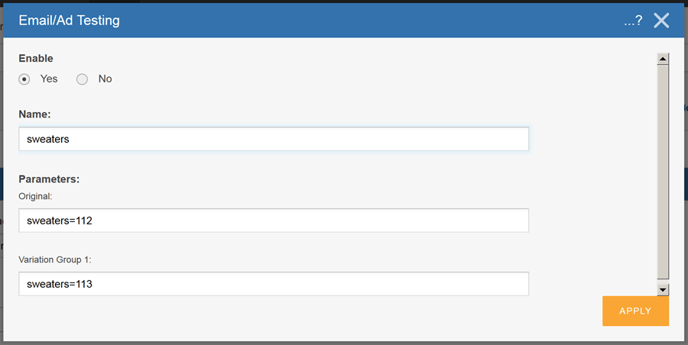 The Parameter fields, Original and Variation Group, display the Name as you enter it above as well as a value. The Variation Group field is replaced with the names of each of your Variation Groups once you define them.
Copy and paste the contents of either the Original or one of the Variation Group fields into an email appended to the URL of your Site. Remember to add a question mark '?' after the URL for your Site and before the contents of the above field. For example: www.yoursite.com/?sweaters=785
Continue creating your Campaign.
Some notes to remember when creating a URL-based assignment:
Audience rules are enforced. If a Campaign uses an Audience that includes only visitors from mobile devices and the visitor is using a computer, the visitor will not be assigned to the Campaign, even if the visitor clicks on the link.
Visitors can be assigned to more than one overlay Campaign, even when externally assigned to a Campaign using the URL parameter.
Previous assignment is sticky. If a visitor has already been assigned to a Variation Group in a Campaign, the visitor will not be reassigned, even though they clicked on the URL.